This article explains how to connect Lever with Pigment to retrieve Lever's Requisition or Opportunities data into a Pigment's block.
 
Table of contents
As with all other native Pigment integrations, you'll first need to configure a Connection in the Integration library page. Once configured, this connection can be used by any Application that is authorized as a data source. These authorized Apps are defined during the 'Import Data' configuration step. Now, let's see how to configure and use this native integration!
Collecting the Lever API Token to set up the connection
Step 1. Go in Settings > Integrations and API > API Credentials and click on the Generate New Key button of the Lever API credentials section (Lever's documentation)

Step 2. 
Fill the following fields:

Key name
Permissions > Read Endpoints, enable the three fields

list requisitions
list requisition fields
list opportunities
Step 3. Copy the API key and then click on DONE.
This is the one and only time these API credentials will be available for viewing.
Please store this API key in a safe place.
Setting up the Lever Connector 
Within Pigment, navigate to the Integration page from your Workspace homepage, and click on "+ Add" on the Lever integration.

Click on Setup a Connection and then fill in the following 2 fields: 

Name: give a name to your connection
Application Access: List the application which will be allowed to use this connection
API key: paste the API key you generated during the previous step.

Click on Setup to finish the setup! 

 
Load Lever's Requisition data into Pigment
Once the Lever Connection is configured, open an Application that the connection is available on and open the "Import Data" interface for the object you want to import data into.  For example, if you were importing data into a Transactions, you would open up list and then select Import and Download and then Import .
Instead of "Upload file", select the Integration option.  From here, select the Lever Connection you just configured 
Note
If you do not see the connection, navigate back to the Integrations page, and verify that the Application is on the Application Access list.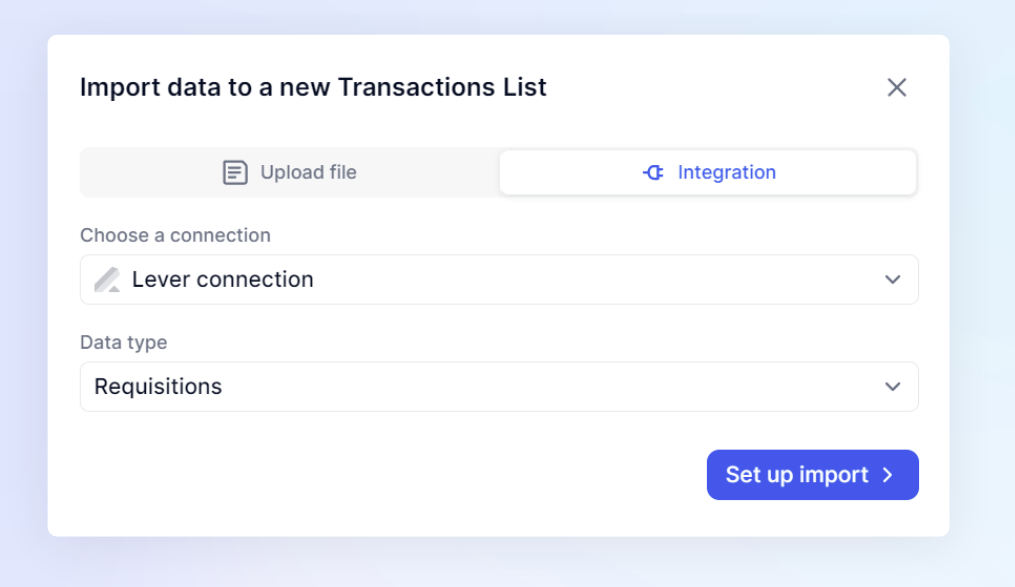 Now, you just need to select Requisitions and click on Start Import.
The Lever's Requisition data should load in Pigment within a few seconds! 
Load Lever's Opportunities data into Pigment
Follow the same steps as for Requisition but select Opportunities as Data type.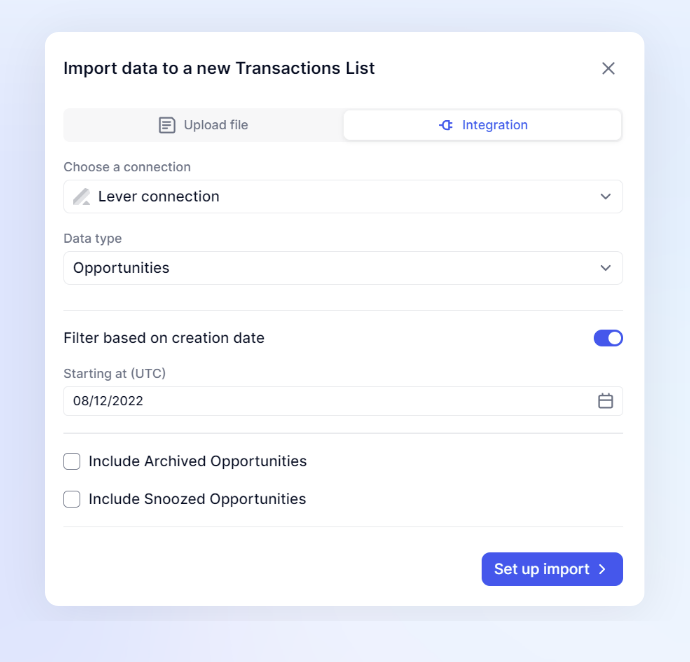 When loading Lever's Opportunities, you can use different filtering options: 
Creation Date: Load only opportunities which were created after a given date.
Archived: When selected Archived Opportunities will be included.
Snoozed:  When selected Snoozed Opportunities will be included.
By default, Pigment doesn't load Archived and Snoozed Opportunities.