This article explains how to connect Salesforce with your Pigment Workspace to retrieve any of your Salesforce report data into Pigment blocks.
 
As with all other native Pigment integrations, you'll first need to configure a Connection in the integration Library page. Once configured, this connection can be used by any Application that is authorized as a data source. These authorized Apps are defined during the 'Import Data' configuration step. Now, let's see how to configure and use this native integration!
Configure the Salesforce Connection
Note: you need to be a Workspace Admin to be allowed to configure.
Go to the Integration page and click on "+ Add".
If it's your first Salesforce Connection, click on "Setup a connection".
For all your Connections, you need to provide the following information: 
A name: this name will allow you to identify the Connection when you use it in other Applications 
Application access: list the Applications which should be allowed to use this Connection. 
Once you're done, click "Setup".
Click on "New authentication", select your environment and click on "Finish":
This should open a new Salesforce pop-up asking you to log in and allow Pigment access to your Salesforce account.
Warning: Pop-up might be blocked by your browser, please make sure you enable them.
The Connection configuration is now finished. You can test the Connection on any authorized application.
Load a Salesforce report into Pigment
Once the Salesforce Connection is configured, open any Application for which this Connection is available and open the "Import Data" interface.
Instead of "Upload file", select the Integration option and select your Salesforce Connection.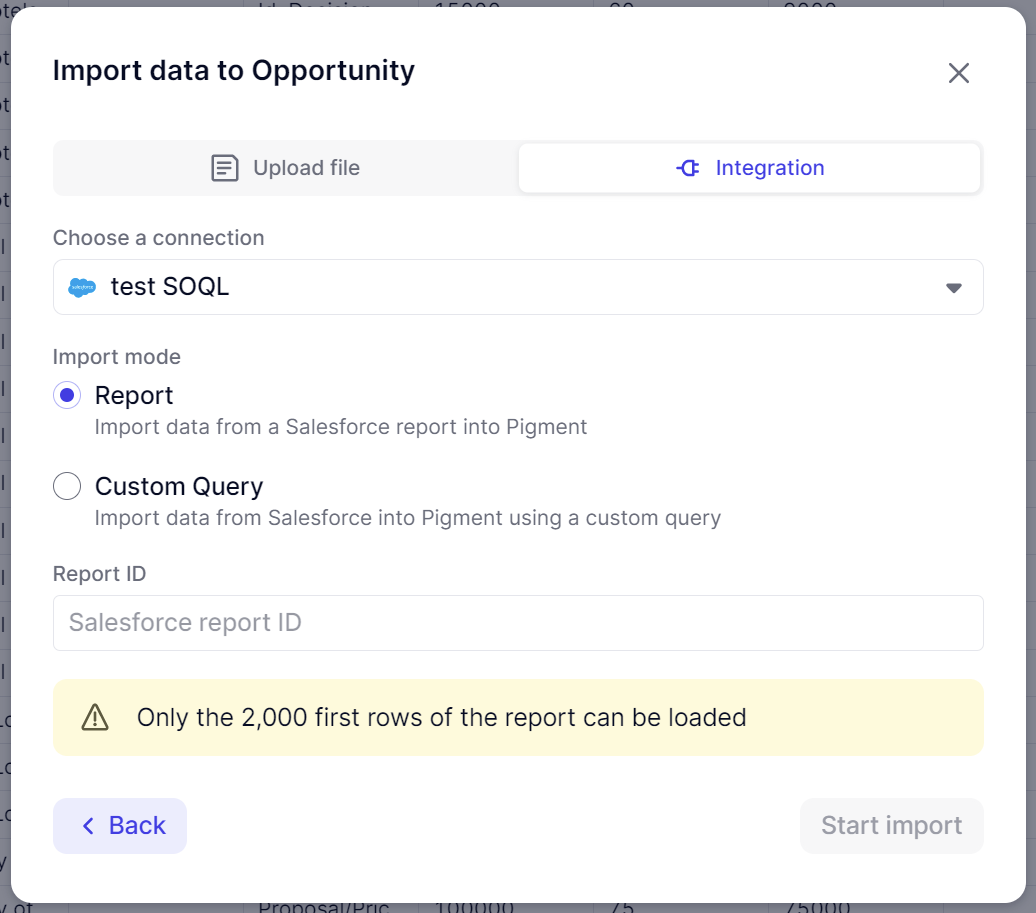 Now, you just need to add the Report ID of the report you want to load into Pigment. You can find this Report ID in the Salesforce URL when you open that report. It should look like an 18 character long code (ex: 00O7R000007wbfpUAA ). Once you have this ID, add it and click on "Start Import".
The report data should load in Pigment within a few seconds! 
Warning: the "Report" import mode only allows you to load up to 2,000 rows of data. for larger amount of data, please use the "Custom Query" import mode
Load raw Salesforce data into Pigment with Custom Queries
For large dataset, Salesforce the "report" import mode is too limited. The preffered solution is to use the Custom Query Mode.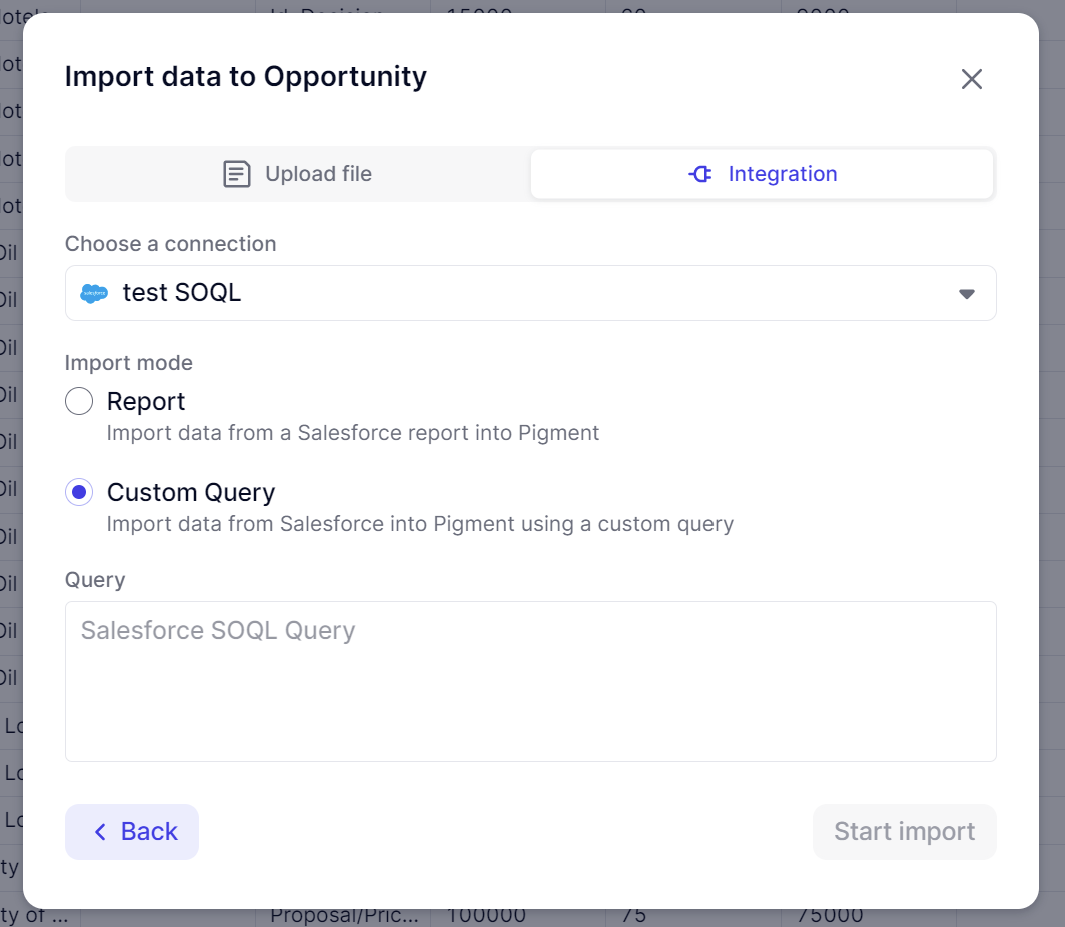 The current version of the SOQL does not support Parent/Child Relationships within a hierarchy.  However, this is on our Roadmap.
Here is an example of SOQL query to load some filed of the Opportunity Table:
SELECT  Id,  AccountId,  Name,  Probability,  IsClosed,  IsWon,  CreatedDate 
FROM Opportunity
Many tools can help you building those SOQL query. Here are two recommended by Pigment: 
SalesForce Query editor (developper consol): powerfull and fast but not very user friendly
Salesforce GSheet Addon: use the import mode and click on "SOQL Query" once you selected the data you want to load. The SOQL query will appear in a modal, you can just copy/past it in Pigment. 
Workbench: a third party tool very user friendly to write SOQL queries when you are not familiar with that syntax.
Once your SOQL query is inputted, you can just click on "Start Import" and continue the standard import flow.