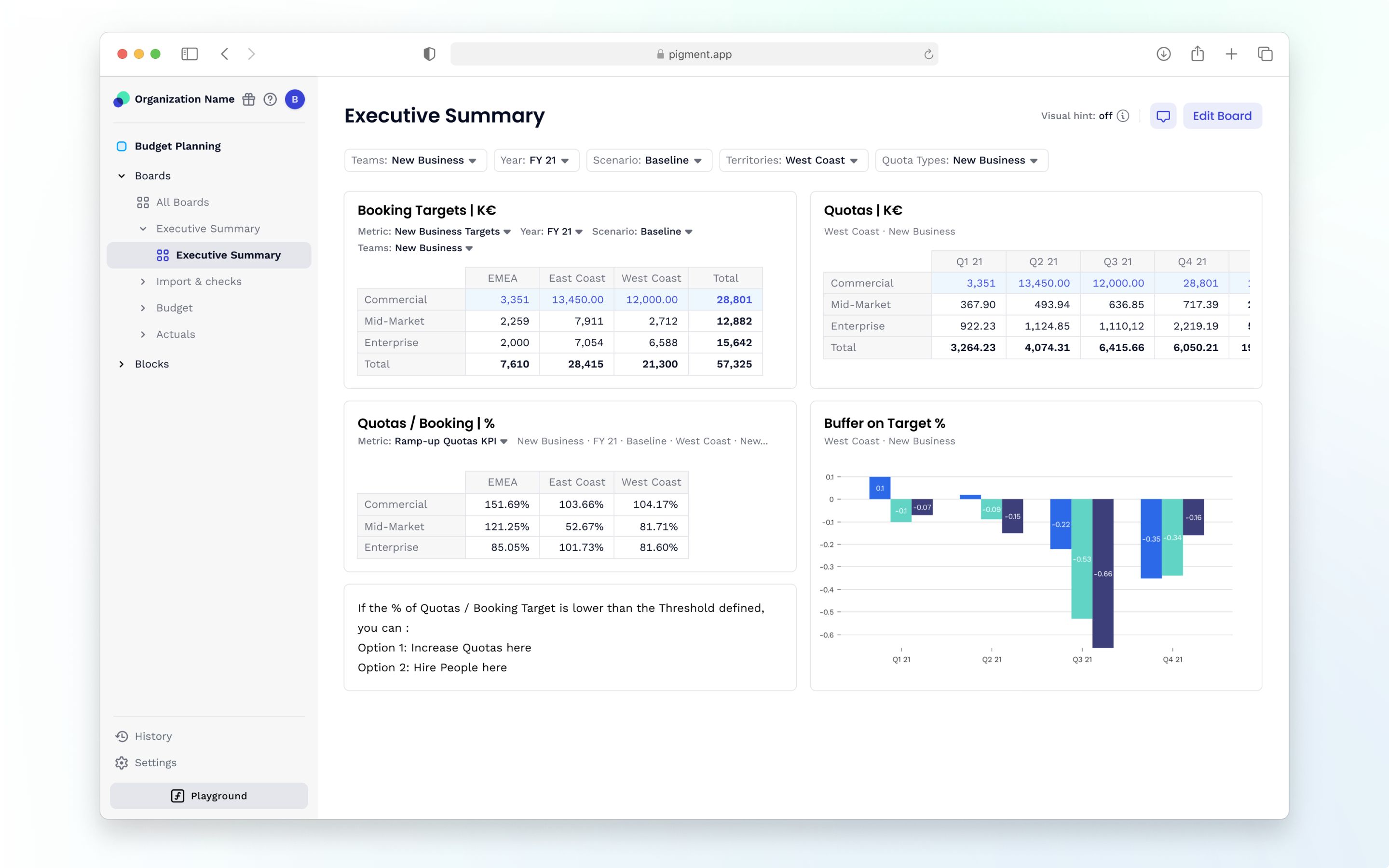 Table of contents
Homepage Sidebar
Once you log in, you'll notice the Sidebar on the left side containing your organization name, release notifications and our Get Help quick links. You'll also notice your initials, where you can click to see your account type, as well as your email and a link to log out. At the bottom of the Sidebar on the Homepage,  we moved our Members section, along with Integrations and API Keys.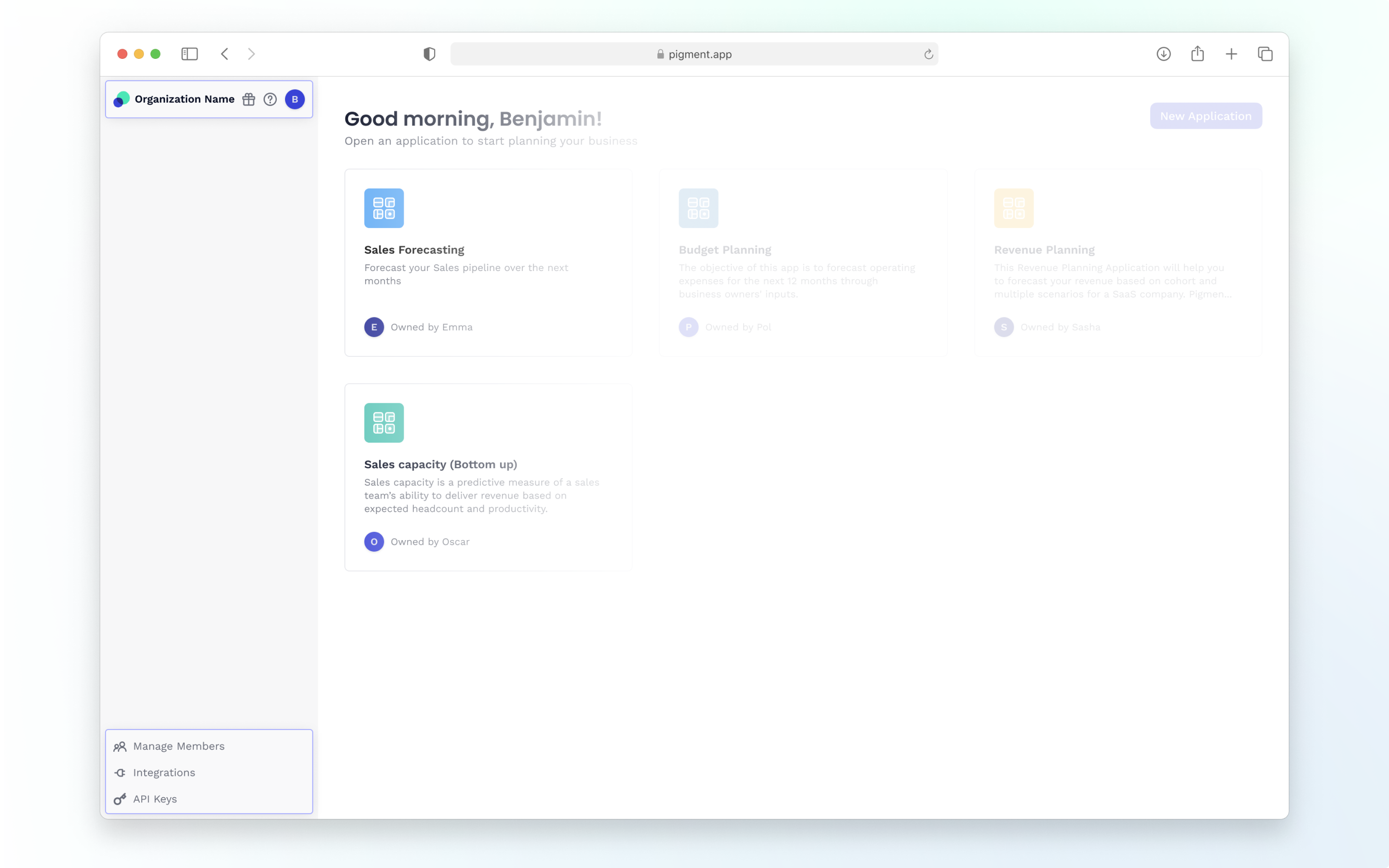 Application Sidebar
Switching Applications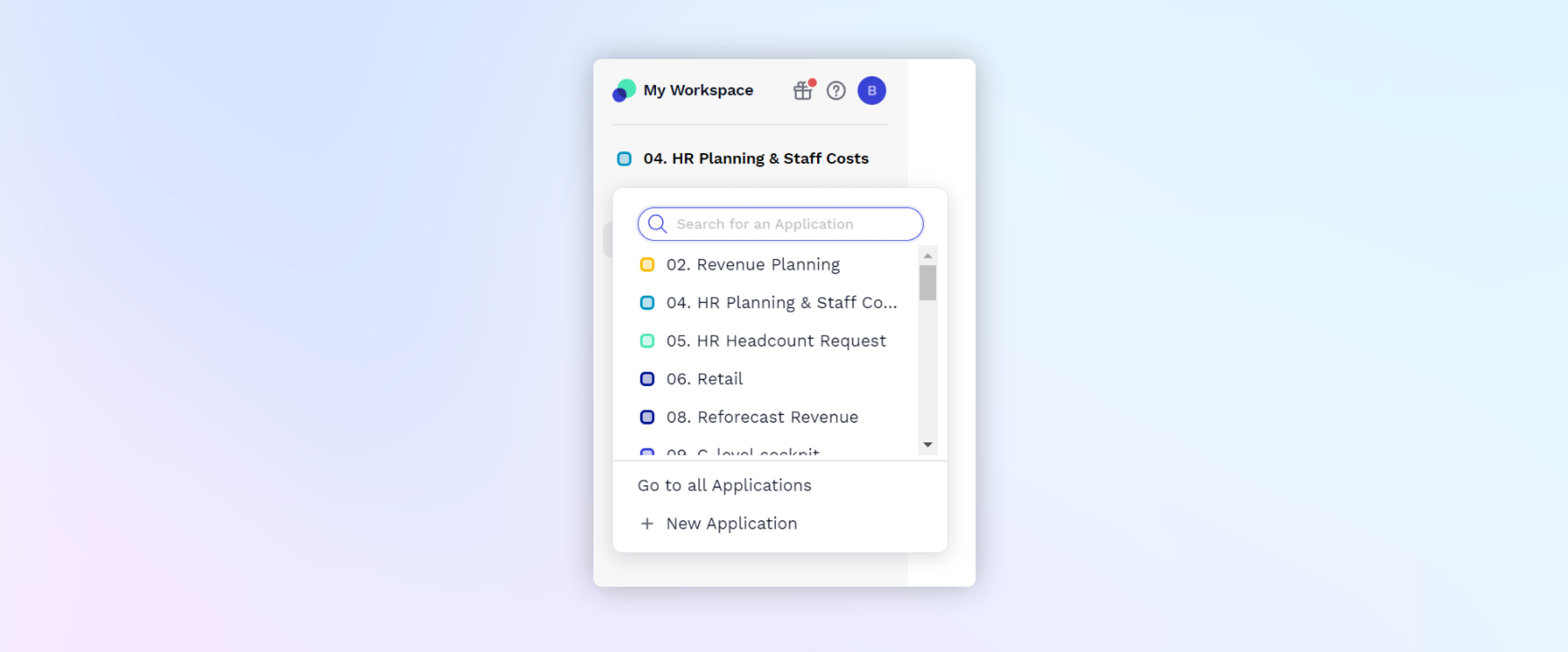 To navigate to other Applications, you can simply click your Application name in the Sidebar, search and select another Application. If you have the right permissions, you can also create new applications directly from there.
Navigating Boards and Blocks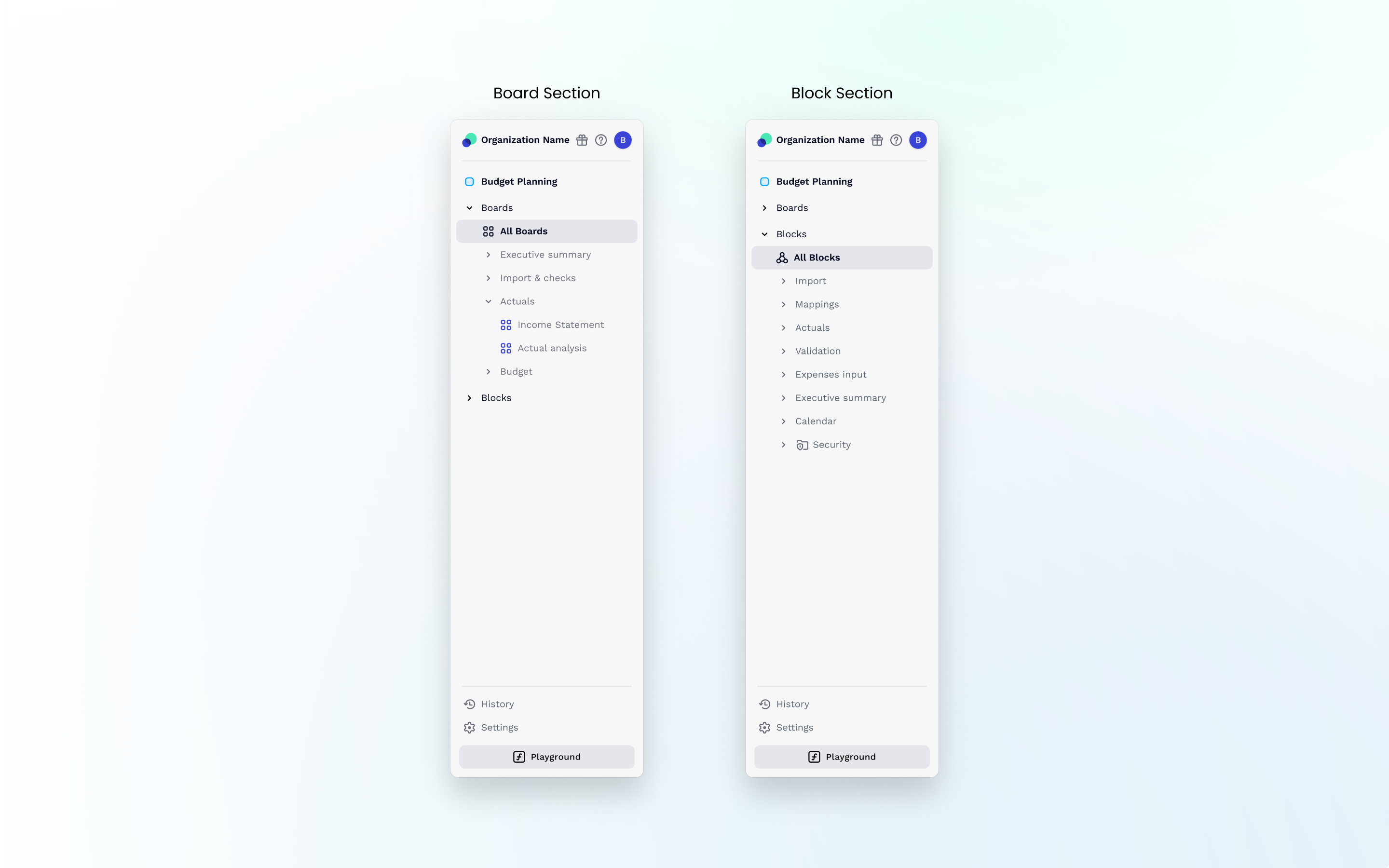 Once you open up an application, this is where you truly see the major benefits of this upgrade.  In your Sidebar, you'll see the name of your application, along with two areas; Boards and Blocks. This allows you to quickly navigate between the two different elements. Use the ">" icon next to each area to expand to see all of your Boards and Blocks.
Creating Folders from the Sidebar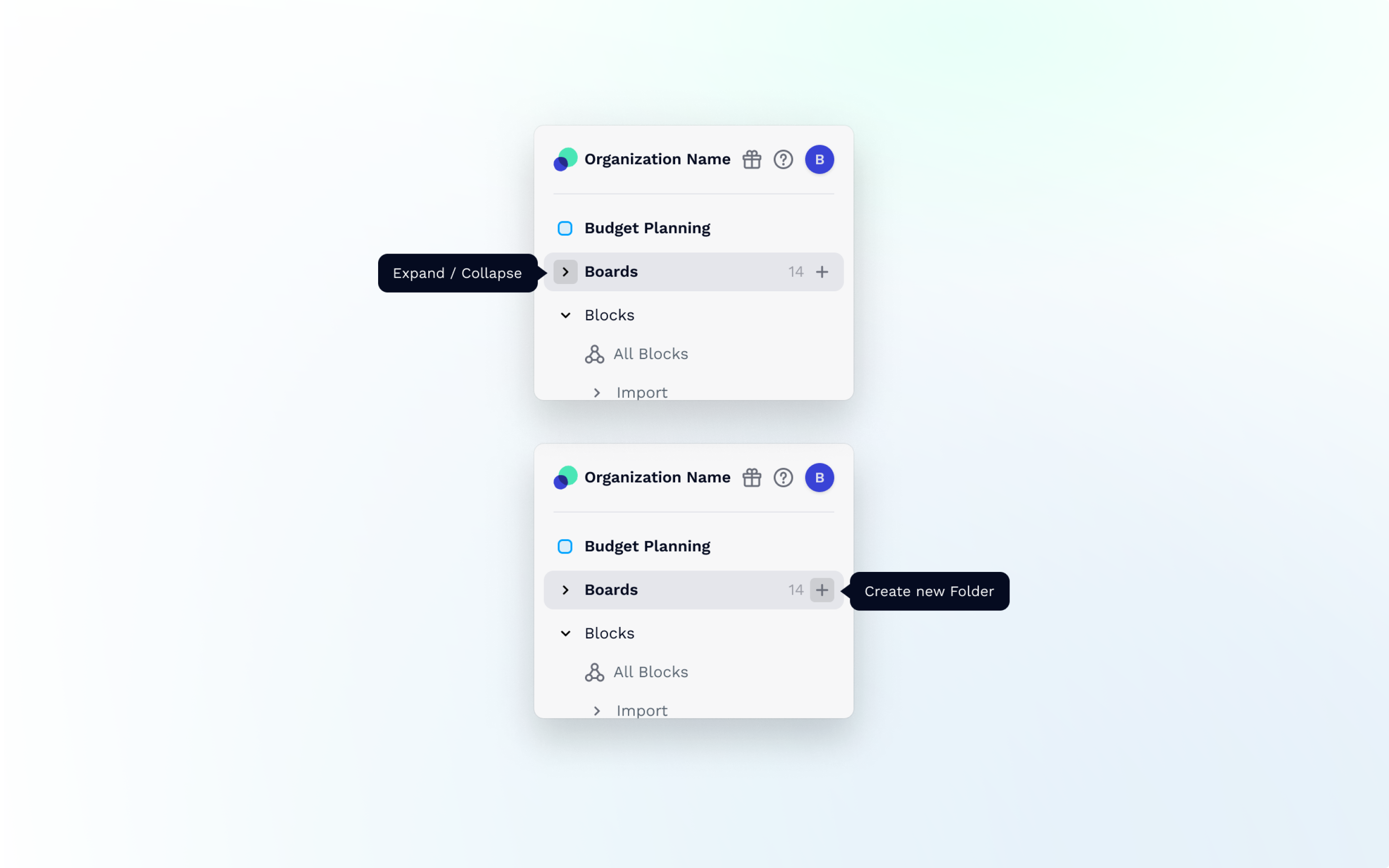 We have added the ability to create folders directly from the Sidebar for organizing your Application. In the Sidebar, hover over either Boards or Blocks until you see a + sign appear, click on that to create a new folder. Need to rename or delete a folder? Hover over a folder in the Sidebar until you see the ellipses "…" then you'll get the option to rename or delete.
Creating Blocks and Boards from the Sidebar
To add a Block or a Board directly into a folder, hover the folder then click on the plus sign "+".

By hovering the name of a Block or Board and clicking on the ellipses "..." you will find several actions (move to folder, duplicate, etc.)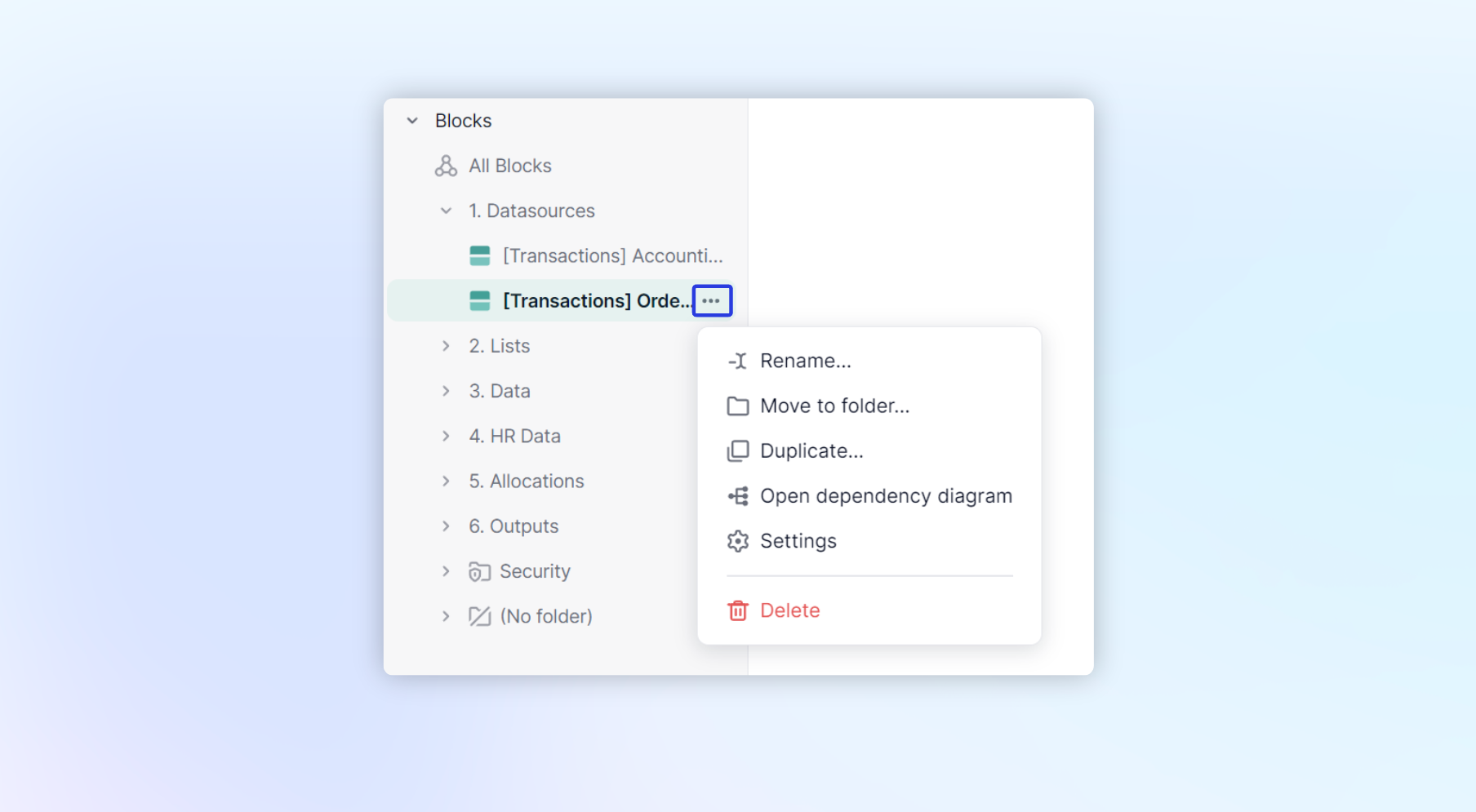 Drag and drop Boards and Blocks into folders 
Users with the "Can configure Blocks permission can drag and drop Boards and Blocks into folders.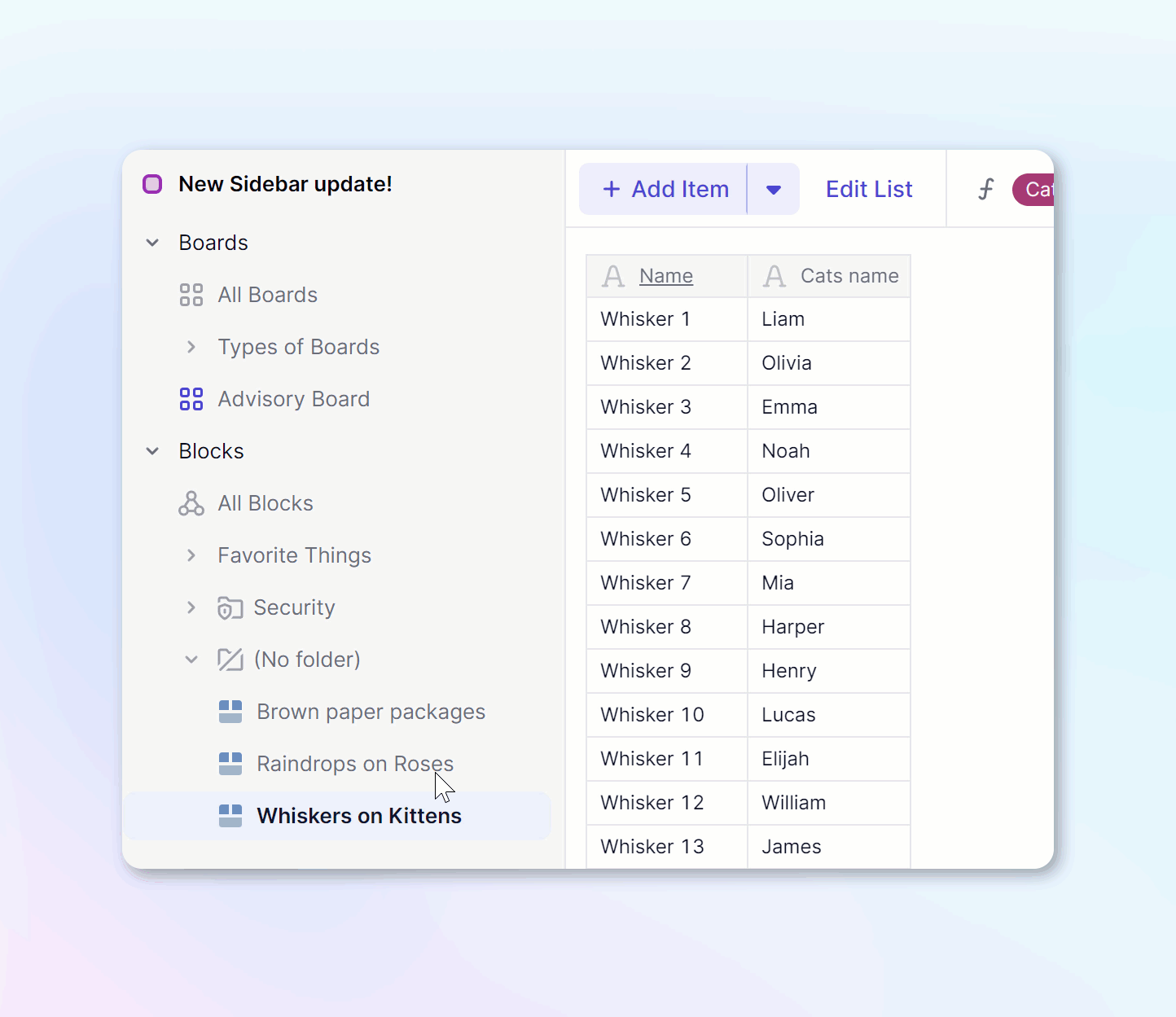 How to access History and Settings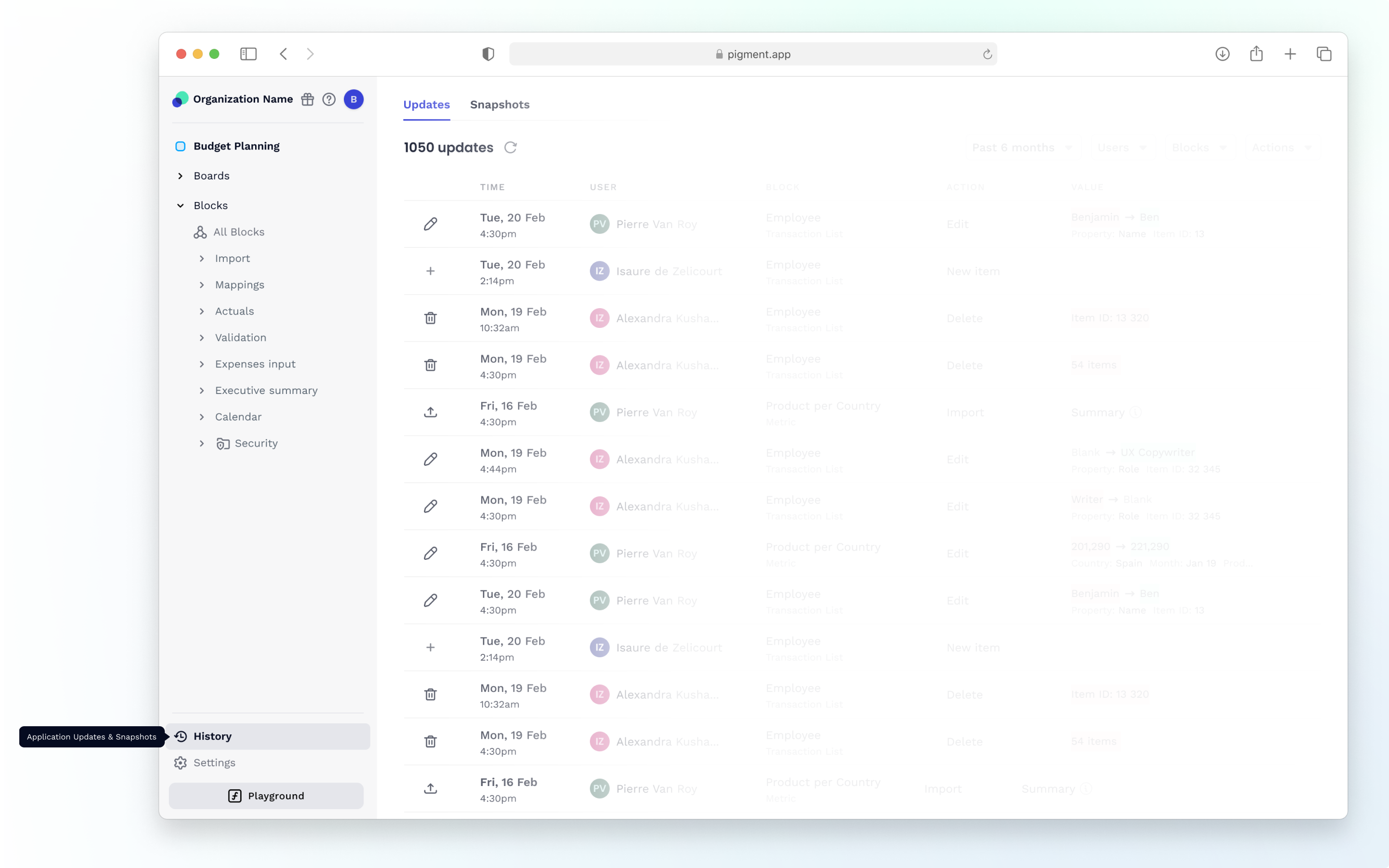 Your model's History and access to Applications and Organization settings have been added to the bottom of the Sidebar for easier access. This will allow you to adjust all settings that you have permission to access.  
Security And Permissions 
All previously assigned Roles, Permissions, and Access Rights will still apply in the Sidebar and all other navigation changes.  Users who do not have permissions to functionality will not be able to use those functionalities. For example, if a user does not have permission to Create and Delete Folders, they will not have that functionality enabled in the Sidebar. 
Get access to the Formula Playground
Want to test a formula before creating a metric with it? The new navigation includes quick access to the Formula Playground. Once signed into an application, you'll see it at the bottom of the Sidebar.
How to collapse Sidebar
You can collapse your Sidebar by hovering over it and clicking on the < icon located at the top, right above your Application name. You'll also notice when you hover over the Sidebar, numbers appear next to Boards and Blocks, this shows the number of objects in each area. If you add folders, they will show the number of objects in each folder. 
Roadmap
We have more planned for our improved navigation experience, here is a sneak peek at what's to come. 
Your details

We know how important your logo is, that is why we have the ability to add your logo on our roadmap.  This will give you the chance to display your logo in the top left, replacing the Pigment logo. Along those lines, we are also adding profile pictures where your initials are.  
We are constantly improving our product and expanding our product roadmap. Check out Product Portal to see what we have planned, vote on what is important to you, or Submit an idea to help shape our product.