For all the new joiners, a quick reminder of what you get with this newsletter:
👉🏾 Around 10 fresh job offers
👉🏻From top companies worldwide
👉 Every Thursday
🥳We're very happy to share that we reached +1000 subscribers to the newsletter last week. We wanted to say a big thanks to all our subscribers and people involved in this project - we didn't expect such traction and impact on the community when we started the project.

A few highlights on the subscribers:
1,018 talents and hiring managers from top tech companies (Stripe, Intercom, DoorDash, LinkedIn, Aircall, Google...) and Enterprise (H&M, Ikea, Deloitte, Philips, AB InBev...)
A good mix of seniority: 26% of Leaders, 29% of Managers, 10% of Analysts
From all over the world: 42% in EMEA, 40% in the US
We'd love to have your support to grow the community and reach new milestones together - any Linkedin posts promoting the newsletter would be much more appreciated. Example of post (thanks Asif!)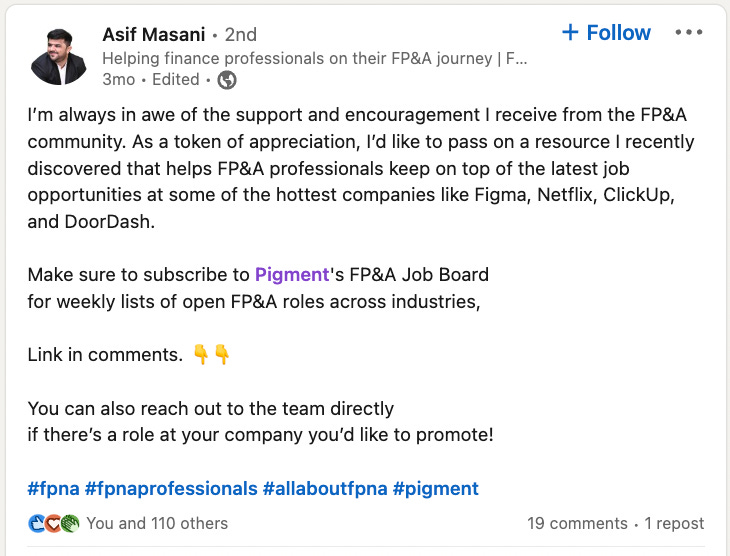 ​
Now, on with the show!
Executive positions
1️⃣ [MOBILITY] Head of Financial Planning & Analysis @ Lime, runs electric scooters, electric bikes and electric mopeds in various cities around the world.
You will lead the global FP&A team with responsibility for all budgeting, planning, and reporting, including owning Lime's central forecasting tool and monthly close process. You will be instrumental in building relationships with Lime's central and local team leaders, and providing them with analytics and insights to effectively manage performance.
📍 Remote, US 
2️⃣ [FINTECH] Director of FP&A @ Chargebee, subscription billing and revenue management platform.
To lead development of the annual expense forecasts for company's functional groups, lead Finance quarterly operating reviews, collaborate with business partners on financial analysis to drive performance, liaison with strategy and data analytics teams to build financial models, take the leadership role in communicating financial and operational performance with our investors, and own the development and maintenance of a sophisticated long range plan or financial model.
📍 Remote 
3️⃣ [HEALTH TECH] Director of FP&A @ TheKey, premier in home care for older adults, seniors and elders.
You will make a visible impact as you contribute meaningfully to business planning and forecasting, including the development of annual operating budgets and multi-year plans, and support ad hoc projects with opportunities for broad cross-functional interactions.
📍 Florida, US
Other positions
4️⃣ FEATURED 🌟[SOFTWARE] FP&A Analyst @ Pigment, an enterprise-grade business planning platform.
Take part in the end-to-end planning, budgeting, and forecasting cycles. Evaluation of financial models and elaboration of investment cases that details the company's operations and projects. Build strong working relationships with the business finance and finance ops teams to drive streamlined processes.
📍Paris, FR
→ Send a note to Thuy-Vy for a direct intro
5️⃣ [RETAIL] Manager, Financial Planning & Analysis @ Casper, a global sleep company that launched in 2014 with one perfect mattress sold directly to consumers.
You will drive process improvements, serve as a true strategic partner to the business, and help elevate the FP&A team to a higher level of operational excellence. You will support annual budgeting, monthly reporting, strategic projects and ad hoc analysis.
📍 New York, US
6️⃣ [SOFTWARE] Financial Systems Analyst @ Houzz, a platform for home remodeling and design, providing people with everything they need to improve or design their homes from start to finish.
You will be responsible for working closely with the Finance / Accounting teams to own finance systems, develop new business processes, and provide day-to-day system configuration and process partnership to the Finance / Accounting team members.
📍 Remote, US
7️⃣ [SOFTWARE] Financial Planning & Analysis Analyst @ connectRN, the leading nurse community, created to connect nurses with each other, provide career support and deliver flexible work opportunities.
This role will contribute by assisting with various department OKRs and KPIs, creating new metrics of financial success, provide insightful feedback on financial results compared to budget. Help develop and improve processes around budgeting, financial projections, and operating forecast.
📍 Waltham, US
8️⃣ [SOFTWARE] Senior Financial Analyst, G&A @ Okta, enables organizations to securely connect the right people to the right technologies at the right time.
Own the budgeting and forecasting processes for these functions, including: - Partnering with business partners to ensure accuracy for spend, headcount and other key metrics based on operational performance - Maintain and improve detailed financial models that track and analyze functional costs and their impact cross-functionally and on the company's overall performance.
📍 San Francisco, US
9️⃣ [FINTECH] Financial Planning & Analysis Manager @ Moonfare, a digital platform leading a new era of private equity investing.
Own Financial Reporting at Moonfare, driving data driven decision making for all teams at Moonfare. Prepare key weekly, monthly, quarterly & annual reports for the Board, Leadership & Shareholders. Ensure data quality that will allow our teams to make informed decisions and plan accurately.
📍 Berlin, DE
🔟 FEATURED 🌟[FINTECH] Finance & Strategy Manager @ Revolut, easy money management, all in one app.
Own a portion of the financial forecast that is used by ExCo, the Board, Regulators, Investors, Product teams etc. Design financial models and structure data to facilitate easy analysis and scenario planning in the future. Build financial models that use both historical data and industry metrics to create insightful forecasts.
📍 Vilnius, LT
→ Send a note to Ashley Moorman for a direct intro