The biggest value you can get from Pigment comes when you have business users (such as budget owners, talent teams and managers) accessing and inputting into Pigment consistently. This will help you save time on data consolidation and version management due to multiple data sources and outputs, as well as fielding questions or managing duplicate processes.
However, it can be a challenge to acclimatize those users to the point where they happily leave their spreadsheets in the dust. Helpfully, when observing which customers have succeeded most in onboarding end users to Pigment, they're almost always following these best practices for onboarding team members to the tool.
Here are 5 tried-and-true strategies you can do to onboard your colleagues for better connected and collaborative planning in Pigment:
1 - Get buy-in early on in the implementation process
Users will be far more likely to onboard willingly and quickly to a platform they feel invested in. By working with your end users to create personas and user profiles, you'll be able to mold the outputs to what they need and want, meaning they're more likely to log in and use Pigment for their insights and planning, which in turn enriches the data available for other teams and individuals.
2 - Build processes around Pigment to make it easy and necessary
One of the worst things teams do when implementing a new tool is continue to use the old tool in tandem while the team acclimatizes. This is especially true when moving from spreadsheets, as the cost is negligible if anything, and the familiarity level is unlikely to be beaten without a clear process migration plan.
While it's difficult to mandate that 100% of planning take place in Pigment (and it may not be appropriate based on where you are in your Pigment journey), our most successful customers have been those who mandate that certain parts of the process happen in Pigment. This is most successful with comprehensive onboarding, which we'll come to shortly, but especially through clear communications around switchover timelines and data migration strategies.
3 - Make the environment and visualizations as familiar as possible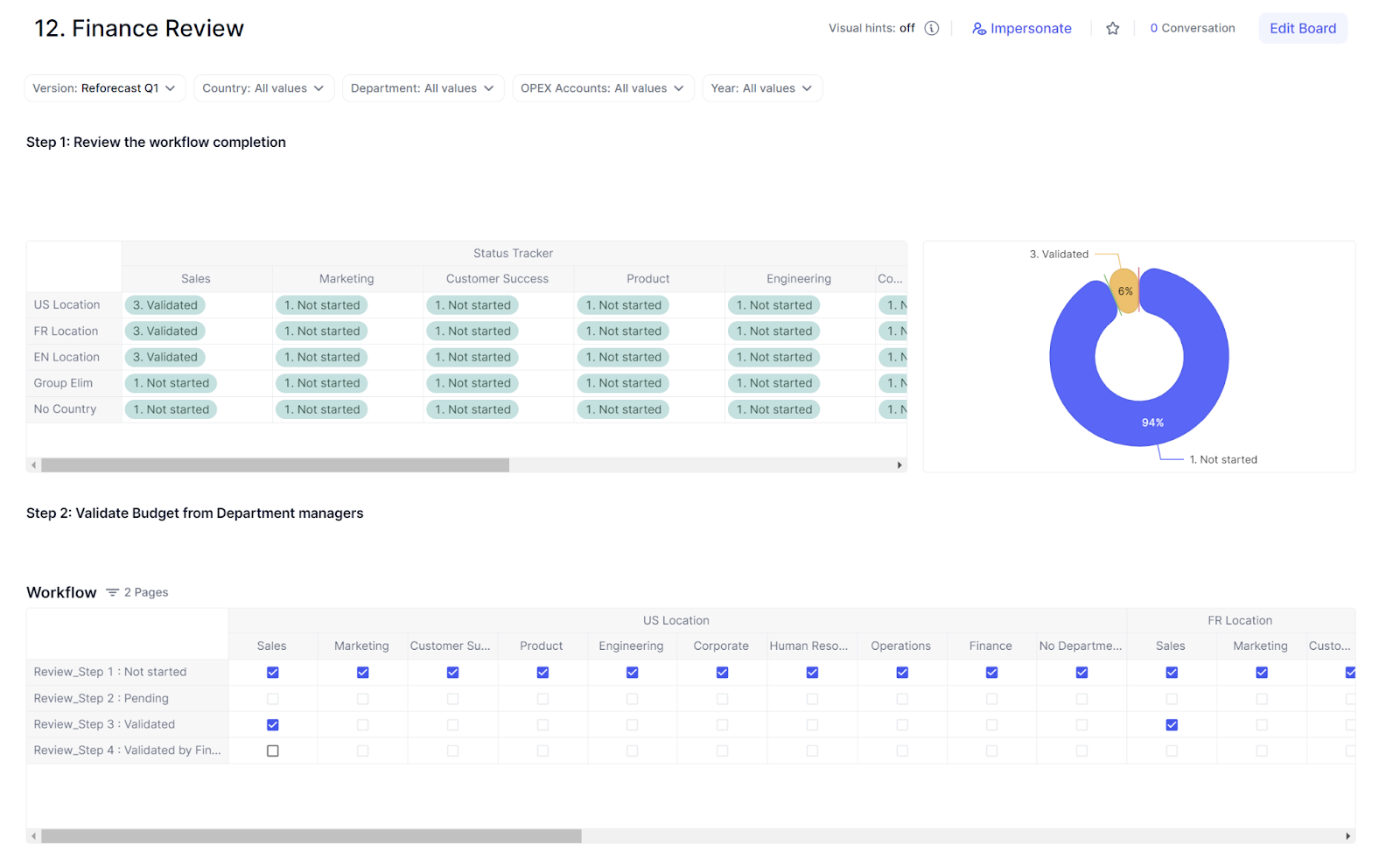 It will be much easier for users to trust and use a new system if it looks familiar to them. And while you're unlikely to achieve 100% likeness, there's a lot you can do with visualizations and inputs to guide your users and help them feel well oriented. If there are dashboards your users rely on that you want to replace, bring them to your Solution Architect during implementation for help recreating them as closely as possible in the way that works best with your new models, and use familiar language and terminology to help orient the audience within the new environment.
4 - Supplement the Pigment Academy with process-specific guides
The Pigment Academy is great for becoming acquainted with Pigment as a software, but if your end users are expected to use Pigment (which we assume they are), they'll need help navigating your specific workspace and processes. Our customers have seen the most success from creating instructional videos, which can then be linked in the relevant boards using text widgets. This means the training is process-specific, easily referenced, and more scalable.
Of course, the instructions don't need to be in video format. You can utilize text, buttons and even conditional formatting to help guide users through the process you've built out for them.
5 - Highlight features that will make their lives easier
There are a lot of features in Pigment that will help your end users achieve their goals more easily, and it's important to point them out to your users (possibly in your training videos). These include:
Sheet View for quick calculations and updates in a more familiar spreadsheet-style format, which your users may be more comfortable with

The dependency diagram so they can see what data is informing the results they can see (keep in mind that this could be impacted by their Access Rights)

The ability to pivot displays so they can see the data split in different ways 

Native comments and tagging so they can request feedback or clarity around specific pieces of data or processes
These features will help them feel more comfortable in Pigment and get more value than they had in their previous tooling.
If you've got any questions or ideas about onboarding end users to Pigment, leave them in the comments!