🙌 Pigment's Connector for Google Sheets, Scheduled Imports, and our other favorite updates🎉
Published: July 28th 2022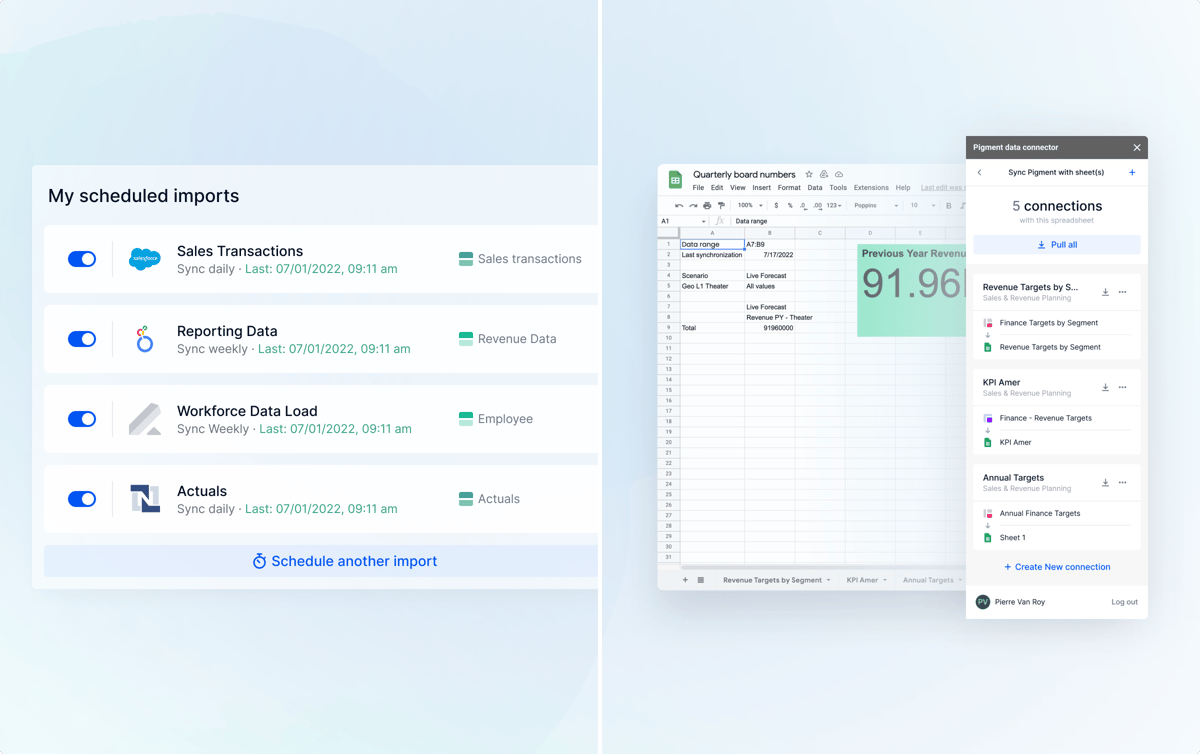 Hi friends,
This month we are all about connections. We have made some new connections,  with the Pigment Connector for Google Sheets. We have added the ability to schedule imports for your established connections. Finally, we have added the ability for you to bulk import all your human connections into Pigment with a CSV. Maybe check with your admin before using that one. 😂
---
Pigment to Presentation in seconds
It is a good thing that no one waits until the last minute to adjust numbers before a presentation.😉If they did, Pigment's Connector for Google Sheets would be the perfect solution. Setting up the connector is easy and once connected, you can pull data from Pigment into Google Sheets and refresh it in just a click. Once your data is in Google Sheets, you can easily connect to Google Slides to update presentations in seconds. 
---
Keep your data on schedule
To truly break down data silos, you need to constantly be updating data from your source systems into your planning solution. The ability to schedule data imports from your connectors is incredibly powerful. 
Want to learn more about the team behind this?  Check out this blog about our Engineering team. 
---
Favorites, Functions, Focus, Filters and Formatting! 
If the theme of this month is connections, the letter of the month is F.  We added Favorites to keep track of Boards and Blocks. New Function for linear forecasting and a new modifier called EXCLUDE. Even function-free calculated items got improvements with preset shortcuts for common calculations. Focus improvement on comments, making it easy to find comments. Filtering now has the ability to hide empty columns or rows independently. Finally, formatting cells just got easier with multi-selection formatting. 
---
Improved User Experience 
We are constantly improving the User Experience at Pigment. The most noticeable improvement 🎺this month was the redesigned header.  The most impactful improvement 🏆was adding Access Rights Icons to make it easier to identify a user's access, especially when working with the Impersonate feature. We also added the ability to update your header label for items, adding the flexibility to use more common term for items.  
---
How Strong Financial Leadership Helps Reclaim the Future
In good times or bad, cash is king and burn multiple is the north star of SaaS. Learn how financial leadership steers the company towards a bright future in this great blog by our very own Chloé Giraut.
---
Want to catch up on previous newsletters?
We are posting all of our previous newsletters in the community, you can find them here. We're always looking to improve so please don't be shy and share your comments via e-mail, by contacting your Customer Success Manager, or by tagging me in any community discussions!
Thanks,
Chris from Pigment