Homepages are personalized landing boards tailored to specific roles, ensuring that when a member opens an application, they are seamlessly directed to their designated Board.
Table of Contents
What do homepages do?
Homepages allow you to designate the Board that a Member lands on when they open an application.  Members are assigned homepages based on their role. When assigning a homepage, you must provide a name and you can also choose to provide a subtitle.  The name will replace the title on the Board for members that use Board as their homepage.
| | |
| --- | --- |
| Once a Board is designated as a homepage, it will appear in the sidebar with a home icon next to the name of the Board. |   |
Setting a Board as a homepage does not grant permissions to access the Board. Members without access to the Homepage will be redirected to an Unknown Page.
To grant access check out this article.
Members must have the Define Application Security Permission to set a homepage for a Role.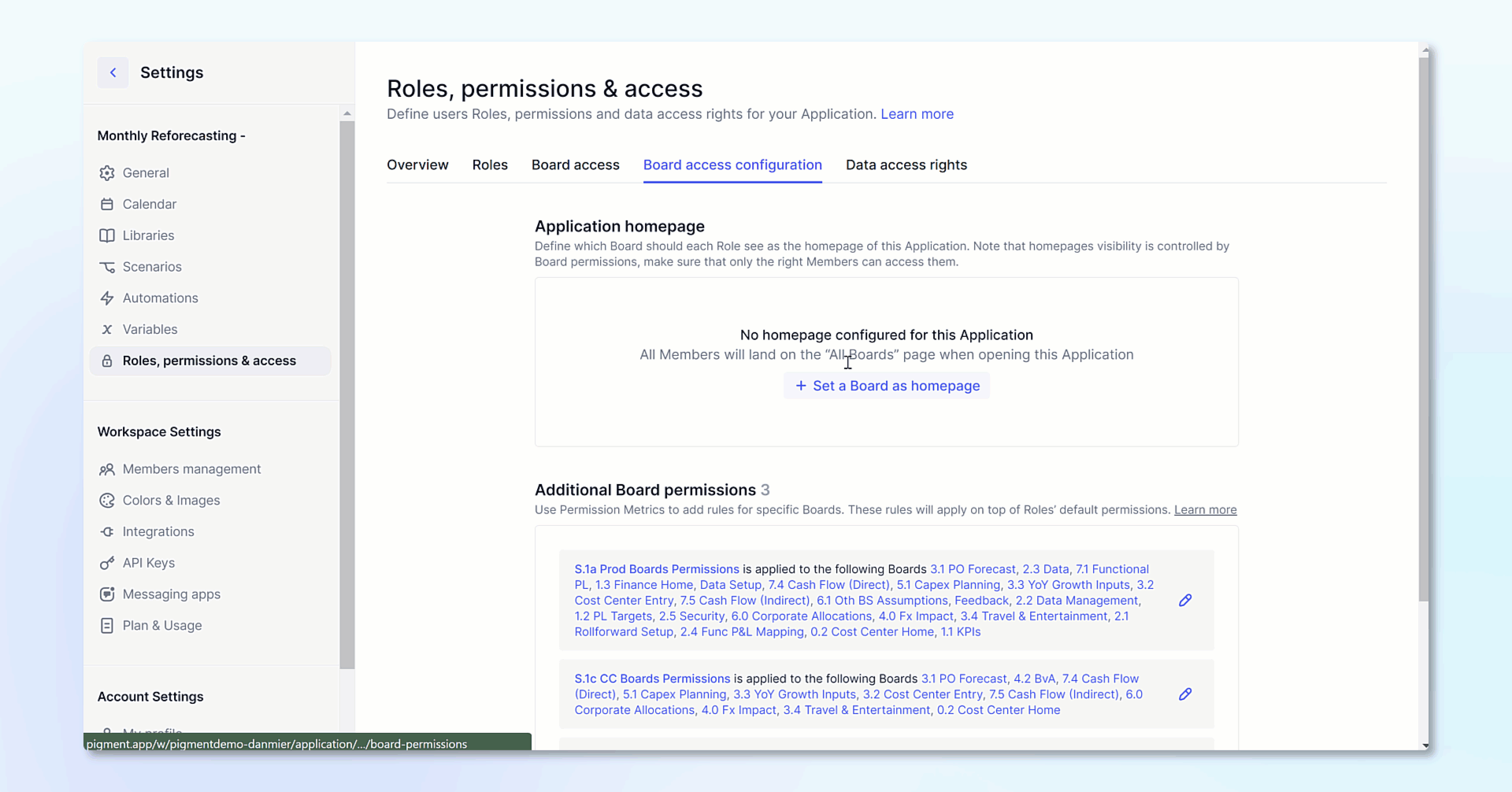 How to assign a homepage
Open the Application: Launch the application for which you want to assign a homepage.

Access Settings: In the sidebar, locate and click on Settings.

Navigate to Roles, Permissions & Access. Once in Settings, find and click on the option labeled Roles, Permissions & Access.

Board Access Configuration: Under Roles, Permissions & Access, select Board Access Configuration."

Set a Board as Homepage: Within Board access configuration, click on Set a Board as homepage

Choose Board and Roles: Select the specific board you want to set as the homepage. Additionally, choose the roles that should have this board as their homepage.

Provide Homepage Details:

Homepage name: Enter a name for the homepage. This name will appear as the board's title and on the sidebar next to the home icon.
Subtitle (optional): You have the option to add a subtitle to provide additional context. 
When setting a Board as a homepage, the provided title and subtitle will replace the existing title and subtitle for members that use Board as their homepage..
When using the Command Palette the Board will show up as its original name not the name given when set as a homepage.