For VC-backed companies, investor dashboards can be time consuming, stressful and tedious to create and maintain. Access to answers and insights is a key part of keeping investors happy and confident, which in turn has a major impact on the business.
Since you've built out your executive dashboards so effectively in Pigment, you may be wondering if you could create investor dashboards there as well. There are lots of benefits to doing so, including:
Increasing confidence, because they're viewing a filtered version of the actual financial data instead of just a report

Improving the value of their insights by allowing them to play with selectors, multidimensionality and assumptions

Saving your team's time, both on assembling reporting packages and on answering ad-hoc questions

Your team gets to work within Pigment for investor reporting like they do for their other processes
Of course, there are a lot of nuances to consider as well that are unique to an investor reporting use case.
In this article, we share insights from our expert modelers, as well as some Pigment customers who are serving insights to investors directly within Pigment. Here are their tips and best practices:
Make sure permissioning, access rights and display settings are airtight
Let's start with the elephant in the room, shall we? As external contacts, investors will need much stricter permissioning and access rights to ensure they only see what you want them to see. This isn't about hiding anything – part of bringing investors into Pigment is actually increasing transparency since they're accessing the actual numbers – but about giving only the relevant information to someone outside the company.
"We spent a lot of time making sure the access rights were correct before granting any access at all by changing an internal user's AR to match. This meant that when we launched, we were confident that they would only see what they were supposed to see."
One of the things the above customer found most helpful was to test the AR setup on an actual internal person, and the Impersonate feature helped with initial board configuration.
In almost every situation, investors will only have editor permissions (rather than contributor or modeler permissions), helping to ensure they won't be able to impact the data with any of their actions in the platform. This serves as another layer of security to help you feel confident inviting them to Pigment.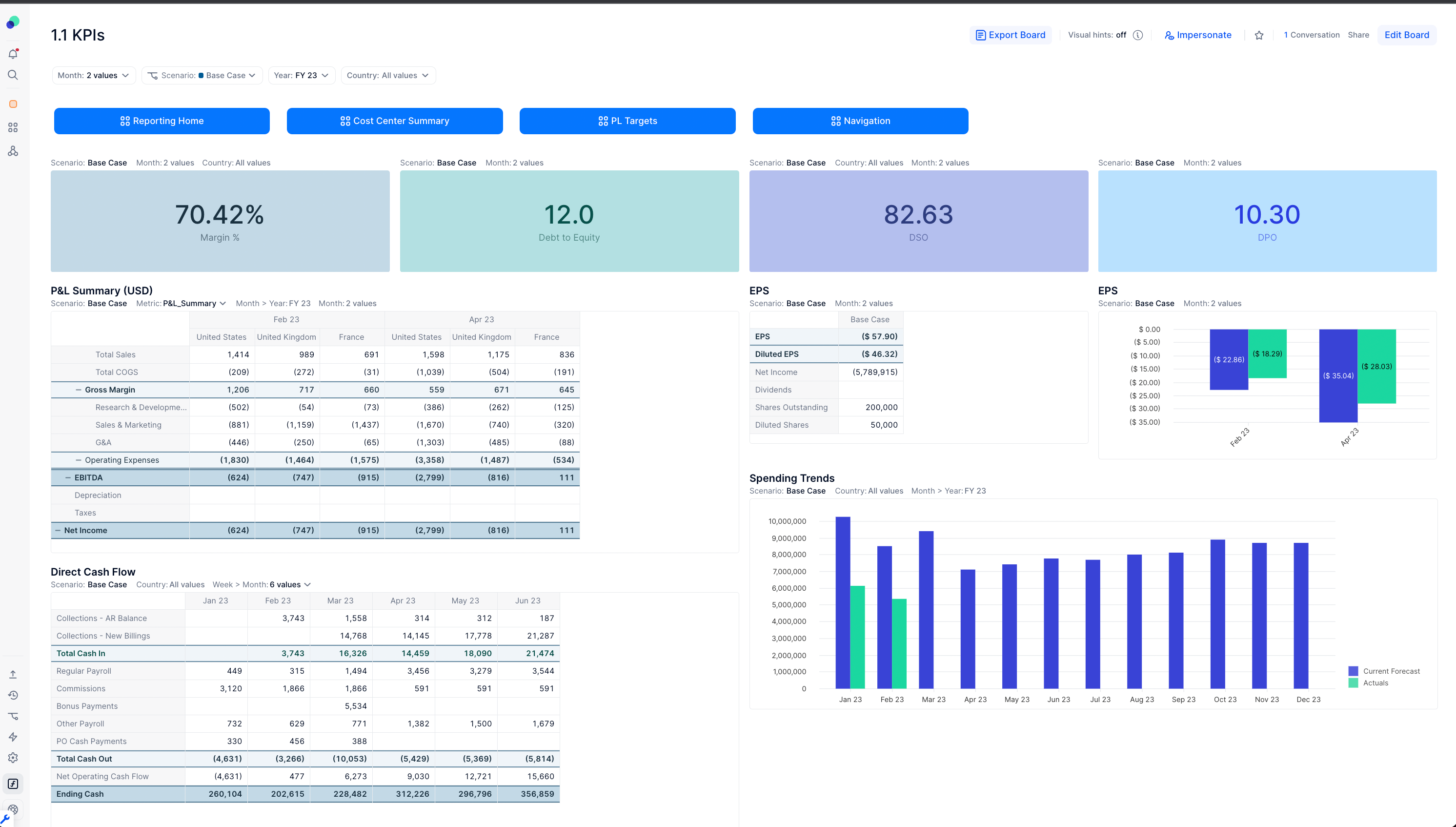 Tell a clear story with the numbers and data you display
Having assembled investor reporting packages in the past, you know that the story the numbers tell is almost as important as the numbers themselves. This same logic should be applied to the boards you create, displaying the data and selecting available filters, dimensions, and even scenarios in a way that will communicate the message you want to share.
"You want Pigment to help you be transparent and create confidence for investors, so keep it simple and make sure you're telling the right story."
The key to this is to keep it simple and not overcomplicate it. While different investors may have different expectations, start with the lowest common denominator of what all your investors need to see. Build that one board, and then you can branch out with new variations when the need arises, either creating multiple boards for all investors or single boards for different investors. 
It's also important to keep your investor dashboards in a clearly labeled folder, ideally within a designated Investor Reporting application. Learn more about naming conventions in Pigment here.
Give them what they want and need, and more (but not too much more)
While your current investor package is a good place to start, you'll need to take your dashboards a step forward in order to justify the move to a new process. Here are some questions you can ask to determine what to include:
What are the ad-hoc questions we get from investors between reports?

Do we have agreements in place for insights they should have presented to them, including the recency of those insights?

What questions do the investors sometimes have after viewing the reporting package?

How can I answer those questions proactively?

What feedback are they likely to have?

How can I facilitate that feedback in a way that is most helpful to them and to us?
For example, it may be that you get a lot of questions about what would happen if certain levers were pulled, and access to scenarios would be a helpful way of letting them self-serve.
"Our reporting packages were getting more and more cumbersome because we were trying to anticipate and answer all of their questions proactively. So when we built their dashboards in Pigment, we created some quite basic scenarios specifically for investors."
Of course, as we mentioned before, investors are still external contacts, so they shouldn't have access to the same levels of granularity, recency and complexity that your internal stakeholders require. Which brings us nicely to the next insight… 
Have a clear strategy for pushing data to the boards
When you assemble your investor packages, how recent is the data you're sharing? There's almost certainly a delay, which is communicated to your investors. And yes, part of the value of Pigment is that users can work from real-time data. However, this isn't necessarily appropriate for an investor audience.
Make sure you have a clear strategy for how often your actuals are pushed to these boards, and set those expectations when inviting investors to the platform. 
The easiest way to do this is to create a dedicated application for your investor reporting, and to only use tables that show the granularity of the data they should be looking at. You can utilize the Pigment to Pigment import functionality and halt calculations for the best possible control.
As a last step to check what they'll see, you could use Export to PDF to validate the view. You can, of course, send this PDF to the investors, but that negates the benefits of having them in Pigment.
Enable them on the platform
Finally, make sure your investors are confident using Pigment! They're unlikely to be used to that level of access to the numbers, and it could be a new tool for them. So make sure you not only create relevant training materials like videos and documentation, but link those easily within the boards since they're unlikely to access Pigment as often as your internal users.
"We made some Loom videos and linked them using buttons, so the investors can remember easily how to navigate the boards and use the features like filters and scenarios."
Additionally, you can create processes to notify them when data has been updated – and don't forget to always link directly to the relevant board so they don't have to click around in the workspace to find their boards.
Have you considered implementing dashboards in Pigment? If so, what questions do you have? Drop them in the comments so we can get you some answers and help you make Pigment the go-to source of truth!